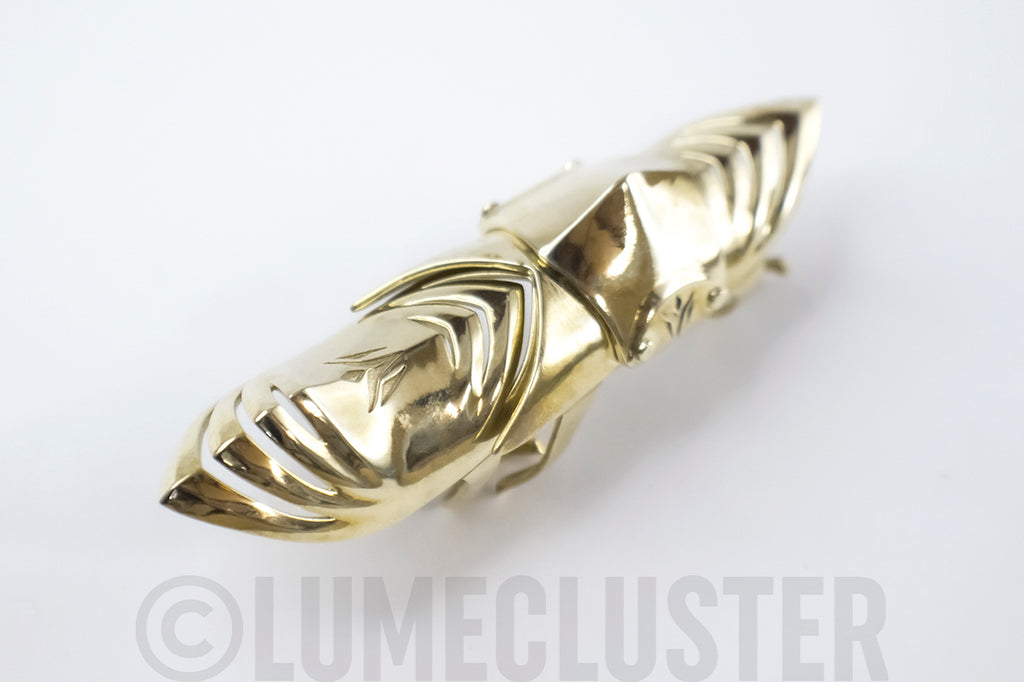 Descendants of the Dragon Armor Ring (2-part) in Brass
Overview

Made in New York City
Sizing chart at the

bottom of the page

Adjustable US sizes 3, 5, 7, 9, 11
The ring length is slightly adjustable


The price is for a SINGLE (1) Descendants of the Dragon Armor Ring (2-part)

See first image
The two parts include one (1) knuckle armor ring and one (1) middle articulated armor ring

The middle articulated armor ring slides over the knuckle armor ring and can be worn together or separately

See second image


Modular design allows you to customize your look

See second image for some style ideas


For fully armored fingers:

Choose the 3-part ring for your index, middle, ring, and pinky finger (in brass or argentium)

Choose the 2-part ring for your thumb (in brass or argentium)

Metal:

Brass
Other precious metals available upon request


Made-to-order

This is a new design launch so estimated production time is 3-4 weeks or more
Production time is separate from shipping time
Production times may shorten in the future

Currently shipping only within the US

Shipped via USPS, but due to the Covid-19 pandemic, please expect unexpected delays
About
As an American born Chinese, I created the "Descendants of the Dragon Armor Ring" as a nod to my Chinese heritage, to honor my best friends who are the biggest heroes and fighters in my life, and to call on people to find their inner dragon (and the good dragon within others) to build stronger bridges together. Please read the full backstory and research HERE.


Giving back with armor collections for justice
We all deserve to fight for our dreams, but not all of us have the equal freedoms, resources or privileges to do so. With each purchase from the Jewelry Armor Collection, you are contributing to the ongoing fight for liberation for all by uplifting our most marginalized communities, through our support of the Transgender Law Center.


By purchasing this jewelry, you are supporting a WOC small business/designer (me), a Black-owned jewelry manufacturing company, and donating to the Transgender Law Center.


Sizing
Please understand that the fit will vary since our hands are all very different. If you're looking for a perfect fit for your fingers, you will need to request custom made rings, which will be a different cost.

When determining your size, keep in mind that your finger size can expand and shrink due to temperature change, eating certain foods, and doing certain activities with your hands. When it comes to temperature change, your fingers are typically bigger in the morning or when you're hot. On the other hand, your fingers shrink when you are cold. So be sure to measure your ring size in a few situations to help you pick your size.

How to measure your finger to pick the right armor ring (2-part):

Look at the ring lengths below and look for the length on your measuring tape

Starting at the base of your finger, place the measuring tape with the ring length (from the chart below) on the top or the side of your finger

It may help to place a plain ring or elastic on the base of your finger to help guide you


EXAMPLE: My index finger is usually a "US 6." But when it's cold, my index finger can drop to a "US 5." And when it's hot or my fingers are swollen my index finger can go up to a "US 7." I prefer a US 7 because it gives me just a little more room to flex my finger joints, and I'd rather tighten it to a smaller size rather than expand the ring bands too much. Above, you can see that both my index and middle finger fit a "US 7" 3-part armor ring and are adjusted to the shortest ring length (on my index finger) and the longest ring length (on my middle finger).


 US Ring Size (adjustable)

Adjustability Range

Ring length (adjustable)


Start measuring at the BASE of your finger (see image example above)

US 3
US 2-4 adjustability




38mm (shortest ring length)




41mm (longest ring length)




US 5
US 4-6 adjustability




41mm (shortest ring length)




45mm (longest ring length

)


US 7
US 6-8 adjustability




47mm (shortest ring length)




51mm (longest ring length)




US 9
US 8-10 adjustability




50mm (shortest ring length)




55mm (longest ring length)




US 11
US 10-12 adjustability




54mm (shortest ring length)




60mm (longest ring length)