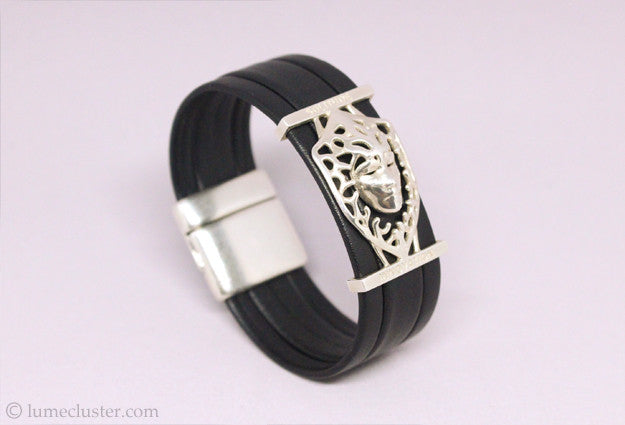 Solitude & Innovation Dreamer Bracelet (custom fitted)
Dimensions + How to measure your wrist for custom fitting
Leather is 20mm x 1.5mm
Leather length is customized to fit your wrist. In order to pick the length that best fits your wrist, please check your measurements by doing the following: 
Use a tape measure and wrap it around the wrist you'd wear the bracelet on. Take note of the number at the point where the tape meets the 0. Pick the size that best matches your tape measurement from the "Metal + leather length" selections above. You can choose an exact, tighter or looser fit.
Materials
Polished silver or brass, flat black leather, silver/gold-plated brass magnetic clasp
About
The Solitude & Innovation Dreamer Cuff was inspired by Susan Cain's book, Quiet: The Power of Introverts in a World That Can't Stop Talking and a tribute to her new site, QuietRev.com
This was designed to help remind you to reclaim solitude and to pause, breathe, and think in those moments of panic, frustration or stress. 
Share your gifts and put yourself out into the world but never forget to nurture and honor the power of innovation in solitude <3
Or follow my work on: