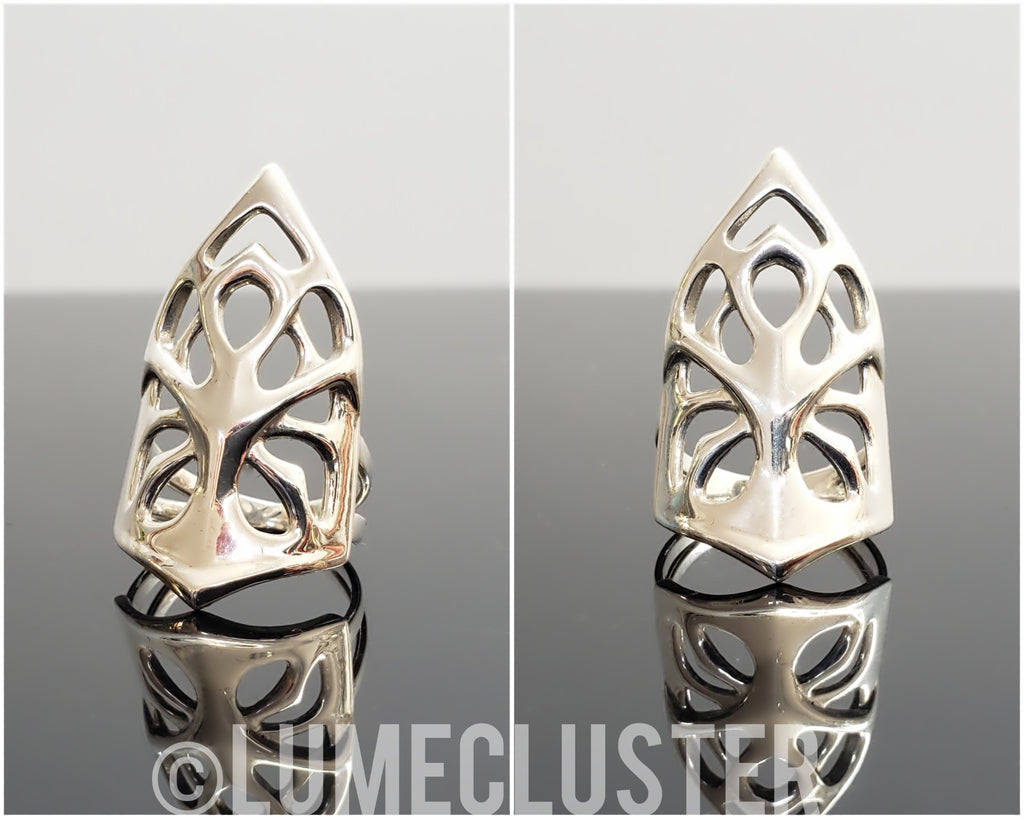 Phoenix Claw Ring
Please note that designs have various production times. If your order consists of in stock, made-to-order, and pre-order items, your entire order will ship when all items are ready and available.
Overview
Made-to-order
Silver

Can be worn on the fingertip or as a regular ring
Wear as many or as few as you like
Made in New York
About
We all deserve to fight for our dreams, but not all of us have the equal freedoms, resources or privileges to do so. With each purchase from the Jewelry Armor Collection, you are contributing to the ongoing fight for liberation for all by uplifting our most marginalized communities, through our support of the Transgender Law Center.
The Phoenix Claw Ring was designed to be worn as a shield ring or a claw ring

The pattern is derived from the ongoing Phoenix Armor design.
How to measure your ring size
You can get your ring size professionally and accurately measured at a jeweler's shop. However, if you want to measure it on your own, take a ring that feels comfortable on your preferred finger (and/or fingertip) and measure the inside diameter of the ring with a ruler in millimeters. Take that diameter measurement and match it to the closest number on the chart below.

In the preview images, I am wearing a size 6 on my ring finger and my fingertip rings (from pinky to thumb) are sizes 0000, 00, 0, 1, and 5. Please take some time to measure your fingers carefully if you plan on getting rings for multiple fingers.
| | |
| --- | --- |
| US Ring Size | Inside Diameter (mm) |
| US 0000 | 9.91 mm |
| US 00 | 10.7 mm |
| US 0 | 11.5 mm |
| US 1 | 12.4 mm |
| US 2 | 13.2 mm |
| US 3 | 14.1 mm |
| US 4 | 14.9 mm |
| US 5 | 15.7 mm |
| US 6 | 16.5 mm |
| US 7 | 17.3 mm |
| US 8 | 18.2 mm |
| US 9 | 18.9 mm |
| US 10 | 19.8 mm |
| US 11 | 20.6 mm |
| US 12 | 21.3 mm |
| US 13 | 22.2 mm |
| | |
Or follow my work on: